Patrick Robinson ~ [Arnold Morgan 01] - Nimitz Class - Patrick Robinson
Shared by:OldScotsman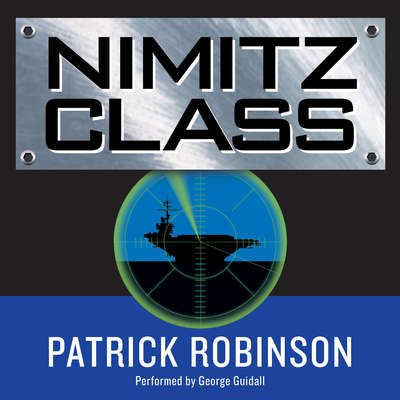 Written by Patrick Robinson
Read by George Guidall
Format: MP3
Bitrate: 96 Kbps
Unabridged
If you have a request for another book or a Re-Seed send me a Personal Message in the Forum and not in the comments section below.
GENERAL INFORMATION
Book Title:………………..Nimitz Class
Series Name:……………Arnold Morgan
Series No:………………..01
Author:…………………….Patrick Robinson
Narrator:………………….George Guidall
Genre:……………………..Adventure Thriller
Publisher:…………………Recorded Books
ISBN:……………………….9780 0626 42301
FILE INFORMATION
Source:…………………….13 CDs or eDownloaded 64 Kb file
# of MP3 files:…………..13
Total Runtime:………….. Hours Minutes
Encoder:…………………..Lame 3.97
Converted To:……………96 Kb | CBR | 44,100 Hz | Stereo
Total Size:…………………651 MB
Converted By:……………OldScotsman
Date Converted:………..28-July-2016
ID3 Tags:………………….Includes Image and all info shown on this page (Smart Phone Ready)
ABOUT THE BOOK
Its supersonic aircraft can level entire cities at a stroke. Its surveillance gear can track every target within thousands of square miles—in the air, on the surface, and under the sea. Its crew of six thousand works night and day to keep this awesome military machine at peak performance. It's a Nimitz-Class nuclear carrier, the most powerful weapons system on the planet. Nothing can touch it.
So when the first stunned messages say only that the Thomas Jefferson has disappeared, the Navy reacts with disbelief. But as her battered escorts report in, the truth becomes inescapable: a Nimitz-Class carrier has been claimed by nuclear catastrophe—the mightiest military unit on earth, vaporized without warning by an accidental detonation of unimaginable power. No other explanation is possible.
But as Navy maverick Bill Baldridge begins to investigate the disaster that claimed his idolized brother's life, another chilling alternative begins to emerge from the high-tech web of fleeting sonar contacts and elusive radar blips. It points to a rogue submarine commanded by a world-class undersea warrior with the steely nerve and cunning of a master spy. Suddenly it's up to Bill Baldridge to track down this shadowy nuclear terrorist, who has already turned America's ultimate weapon into the biggest sitting duck in history—and who still has another nuclear-tipped torpedo in his tubes. He's already proved he has the icy ruthlessness to incinerate six thousand sailors without a qualm. What will he do for an encore?
In these pages the modern military springs to life, form the Pentagon's tense conferences to the screaming flight deck of a giant carrier to the silent conning tower of an attack sub on full alert. But as Bill Baldridge races against time to pursue the nation's most deadly enemy, we are forced to ask ourselves serious real-life questions: Have defense budget cuts jeopardized our national security? Are we prepared to defend ourselves against naval terrorist? How safe are we? Nimitz Class is a world-class techno-thriller with a plot as riveting as Hunt for Red October—and an explosive twist out of tomorrow's headlines.
ABOUT THE AUTHOR
Patrick Robinson was born in 1940 and was a British a journalist for many years before becoming a full-time writer of books. His non-fiction books were bestsellers around the world. He lives in Ireland and spends his summers in Cape Cod, Massachusetts.
ABOUT THE READER
George Guidall was born on June 7, 1938 in Plainfield, New Jersey, USA. He has recorded over 1200 unabridged novels, bringing a consistent artistry to his readings and delighting listeners for over 20 years. Guidall received an Audie Award (the industry's equivalent to an Oscar) for best unabridged narration of a novel for his recording of John Irving's A Widow For One Year, an honor he captured again for his rendition of Wally Lamb's I Know This Much Is True. He's been nominated for best narration for David Robbins' War Of The Rats, Ken Follet's Code to Zero, Neil Gaiman's American Gods and his unabridged narration of Cervantes' classic, Don Quixote. Acclaimed as one of the original "Golden Voices" in Audiofile magazine, he holds the record for the most "Earphone" awards (over 70) given by the magazine to any narrator for excellence in narration. In addition to his award-winning work as an audiobook narrator, Guidall has also enjoyed a forty-year career in the theatre.
All the above information including the Image are inserted into the ID3 tags on the MP3 files.
Remember, we have uploaded these books just for you because we wish to SHARE them. It is only right therefore, you SHARE them with others, and the only way you can do this, is to keep SEEDING. In other words, don't stop after you have finished the download. Check and make sure your torrent program is set to continue uploading even after the downloading has been completed. A ratio of 2.0 means you are giving back twice what you have received, the book won't die and all our efforts have not been wasted but 5.0 would be outstanding and shows you have really entered into the spirit of what we are about. WE DO OUR BIT AND YOU DO YOUR BIT, sounds fair, doesn't it. If you are new to this and don't understand, send me a Personal Message in the Forum, not in the comments section below. If I can't help, I know someone who can.
Announce URL:
udp://inferno.demonoid.pw:3393/announce
This Torrent also has several backup trackers
Tracker:
udp://inferno.demonoid.ooo:3392/announce
Tracker:
udp://9.rarbg.me:2710/announce
Tracker:
http://mgtracker.org:2710/announce
Tracker:
udp://tracker.coppersurfer.tk:6969/announce
Tracker:
http://torrent.gresille.org/announce
Tracker:
http://tracker.aletorrenty.pl:2710/announce
Tracker:
http://tracker.ex.ua/announce
Tracker:
udp://tracker.internetwarriors.net:1337/announce
Tracker:
udp://tracker.opentrackr.org:1337/announce
Tracker:
udp://tracker.sktorrent.net:6969/announce
Tracker:
http://tracker1.infohash.org/announce
Tracker:
udp://tracker.leechers-paradise.org:6969
Tracker:
udp://tracker.coppersurfer.tk:6969
Tracker:
udp://explodie.org:6969/announce
Tracker:
udp://tracker.desu.sh:6969
Tracker:
udp://tracker.tiny-vps.com:6969/announce
Tracker:
udp://tracker.vanitycore.co:6969/announce
Tracker:
http://tracker.baravik.org:6970/announce
Tracker:
http://tracker2.wasabii.com.tw:6969/announce
Tracker:
udp://inferno.demonoid.pw:3399/announce
Creation Date:
Thu, 18 Aug 2016 04:42:00 -0400
This is a Multifile Torrent
Nimitz Class - CD 01.mp3 50.52 MBs
Nimitz Class - CD 02.mp3 50.08 MBs
Nimitz Class - CD 03.mp3 50.07 MBs
Nimitz Class - CD 04.mp3 49.33 MBs
Nimitz Class - CD 05.mp3 49.81 MBs
Nimitz Class - CD 06.mp3 50.46 MBs
Nimitz Class - CD 07.mp3 50.08 MBs
Nimitz Class - CD 08.mp3 50.3 MBs
Nimitz Class - CD 09.mp3 50.07 MBs
Nimitz Class - CD 10.mp3 50.29 MBs
Nimitz Class - CD 11.mp3 50.63 MBs
Nimitz Class - CD 12.mp3 49.79 MBs
Nimitz Class - CD 13.mp3 50.41 MBs
Nimitz Class Information File.txt 4.19 KBs
Nimitz_Class.jpg 22.8 KBs
Patrick_Robinson.jpg 5.78 KBs
Torrent downloaded from Demonoid.ooo.txt 39 Bytes
Combined File Size:

651.88

MBs
Piece Size:

1

MB
Comment:
Updated by AudioBook Bay
Encoding:
UTF-8
Info Hash:
72662bbb38b3646c25741b692e2ee61df678dacd
Torrent Download:
Torrent Free Downloads
Tips:
Sometimes the torrent health info isn't accurate, so you can download the file and check it out or try the following downloads.
Direct Download:
Download Files Now
Tips:
You could try out alternative bittorrent clients.
Secured Download:
Start Anonymous Download
AD: